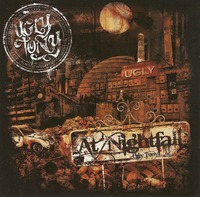 L'album "At nightfall" du beatmaker français Ugly Tony vient de sortir en format CD.
On retrouve sur ce projet de nombreux invités dont Termanology, Copywrite, Don K-Sen, King Magnetic, Pumpkinhead, L.E.G.A.C.Y, IDE, Robust, The Absouljah, The Life Long...
Le mix promo de l'album réalisé par Dj Nix'On est en écoute ici:
Ugly Tony 'At nightfall' (Mix promo)
Un très bon album, à écouter...
Tracklist
:
1) Rep thoroughly feat Bambino TTT
2) Get high feat Jahi
3) Who I am feat Wes Restless & Robust
4) I need u feat Don K.Sen, Kwote 1, IDE & DJ Spicher
5) Alone feat Fallen Angelz & L.E.G.A.C.Y.
6) The tower of Babel feat King Magnetic, Alucard, Respect Tha God & L.I.F.E. Long
7) Father N sun feat The AbSouljah
8) Polo opuesto feat Don K.Sen
9) Ah some feat Tame One
10) Dragon punchlines feat El Nucleo
11) No one can save you feat I Am Many, Pumpkinhead & HalfaBrick
12) The good, the bad & the angry feat The AbSouljah, Spicco & Angry Man
13) Untouchables feat Copywrite, Rhyme Asylum & D'j Nix'On
14) At nightfall feat Tragic Allies, HalfaBrick & Bambino TTT
15) In between the lines feat The AbSouljah
16) Watch it feat Respect Tha God & Dj Nix'On
17) Real shit feat HalfaBrick
18) Apply pressure feat Angry Man & The AbSouljah
19) A million clocks tickin' feat Ciph Barker
20) Misunderstood feat Tragic Allies
21) Use your mind feat Termanology, Don K.Sen & IDE
22) Soul quest feat The AbSouljah
23) U didn't know feat Kwote 1 & Dj Nix'On
"At nightfall" est disponible dans notre
Shop
.
Myspace
:
www.myspace.com/tonystrife
Facebook
:
www.facebook.com/UglyTony
En écoute ici, le titre "I need u" featuring Don K.Sen (1492), Kwote 1, IDE (Creative Juices) & Dj Spicher